SpaceLodge
Details

Created on Monday, 26 November 2007 14:05
Written by Administrator
Hits: 8505
We used to be known as the SpaceLodge BBS during the good old Fido BBS days, a good 13 years ago now. This area is devoted to the communications that occur in space. This includes satellites, ranging from weather, navigation, military, geographical study and those that men and women call home while in orbit.
Yes, you can listen to the International Space Station and the American Space Shuttle. There are other un-manned space vehicles that you can listen to with your scanner and shortwave receiver. With a satellite tracking program and a radio you should be able to listen to what ever is still transmitting.
Manned Space Flight
Since the early Mercury program to the latest flights of the Space Shuttle to the International Space Station, man has been on an endless trek to the moon or to Earth orbit.
Please choose the ISS or STS icons for further information,
or you can use the menu on the right.
Before the end of the next decade, NASA astronauts will again explore the surface of the moon. And this time, we're going to stay, building outposts and paving the way for eventual journeys to Mars and beyond.
ISS Communications
The International Space Station is the largest and most complex international scientific project in history. And when it is complete just after the turn of the century, the the station will represent a move of unprecedented scale off the home planet. Led by the United States, the International Space Station draws upon the scientific and technological resources of 16 nations: Canada, Japan, Russia, 11 nations of the European Space Agency and Brazil.

More than four times as large as the Russian Mir space station, the completed International Space Station will have a mass of about 1,040,000 pounds. It will measure 356 feet across and 290 feet long, with almost an acre of solar panels to provide electrical power to six state-of-the-art laboratories.
The station will be in an orbit with an altitude of 250 statute miles with an inclination of 51.6 degrees. This orbit allows the station to be reached by the launch vehicles of all the international partners to provide a robust capability for the delivery of crews and supplies. The orbit also provides excellent Earth observations with coverage of 85 percent of the globe and over flight of 95 percent of the population. By the end of this year, about 500,000 pounds of station components will be have been built at factories around the world.
Zvezda Service Module
143.6250 FM voice A/G VHF-1        (TsUP-M)
130.1670 FM voice A/G VHF-2/TORU   (TsUP-M)
139.2080 FM voice A/A VHF-1
121.7500 FM voice A/A VHF-2/TORU
121.7500 FM EVA-1
130.1670 FM EVA-2
247.0000 AM EVA Data 1
231.0000 AM EVA Data 2

Russian Orbital Segment
130.1670 FM TORU Control system
121.7500 FM TORU Control system
165.8800 FM TLM system
166.1300 FM TLM system
628.1250 PCM/AM Zvezda TLM system
630.1250 PCM/AM Zvezda TLM system
632.0000 PCM/AM Zarya TLM system
634.0000 PCM/AM Zarya TLM system
922.7600 CW Kvant Beacon (768.975 Uplink)

US Orbital Segment
414.2000 FM UHF Space/Space

Soyuz/Progress
121.7500 FM voice downlink
166.1400 AM telemetry (165-167 MHz)
922.7600 CW beacon
Shuttle Communications
The space shuttle orbiter communication system transfers telemetry information about orbiter operating conditions and configurations, systems and payloads; commands to the orbiter systems to make them perform some function or configuration change; documentation from the ground that is printed out on the orbiter's teleprinter or text and graphics system; and voice communications among the flight crew members and between the fight crew and ground.
This information is transferred through hardline and radio frequency links. Hardline refers to wires that connect communicating devices, and RF refers to radio signals. RF communication takes place directly with the ground or through the TDRS.
Direct communication takes place through Air Force Satellite Control Facility remote tracking station sites, also known as space-ground link system ground stations, for military missions or through STDN ground stations for NASA missions. Direct signals from the ground to the orbiter are referred to as uplinks, and signals from the orbiter to the ground are called downlinks.
TDRS communication takes place through the White Sands Ground Terminal. These indirect signals from the TDRS to the orbiter are referred to as forward links, and the signal from the orbiter to the TDRS is called the return link. Communication with a detached payload from the orbiter is also referred to as FL, and RL is the signal from the payload to the orbiter.
The orbiter communication system is divided into several smaller systems to facilitate information transfer: S-band frequency modulation, S-band phase modulation, Ku-band ultrahigh frequency, payload communications, audio and closed-circuit television.
The S-band FM, S-band PM, Ku-band and UHF systems are used to transfer information between the orbiter and the ground on RF signals in their frequency bands. The payload communication system is used to transfer information between the orbiter and its payloads either through hardline or RF links. The audio systems transfer voice communications throughout the orbiter, and the CCTV system is used for visually monitoring and recording activities. Communication security equipment aboard the orbiters provides the capability for encryption and decryption of operational data.
Shuttle
259.7000 AM A/G voice downlink (296.8 Secondary)
410.2000 FM EVA (new)
279.0000 AM EVA (old)
243.0000 AM EVA/Emergency
2250.0000 FM S-Band A/G
2106.4063 PM S-Band Primary
2041.9479 PM S-Band Secondary
2287.5000 PM S-Band Primary A/G
2217.5000 PM S-Band Secondary G/A
Amateur Radio System
When astronauts, cosmonauts and mission specialists from many nations fly on the International Space Station, they will have amateur, or ham, radio as a constant companion.
Since its first flight in 1983, ham radio has flown on more than two-dozen space shuttle missions. Dozens of astronauts have used the Space Shuttle Amateur Radio Experiment, or SAREX, to talk to thousands of kids in school and to their families on Earth while they were in orbit. They have pioneered space radio experimentation, including television and text messaging as well as voice communication.
The Russians have had a similar program for the cosmonauts aboard the Russian Space Station Mir. When U.S. astronauts were aboard Mir in preparation for the long duration missions of the International Space Station, they used amateur radio for communication, including emergency messaging while Mir was in distress.
On August 29th, 2004, the ARISS program announced that the amateur radio equipment aboard the International Space Station is now operating in cross-band repeat mode. We realize that many of you will miss the packet-operating mode. However, cross-band repeat allows further experimentation of the ISS amateur radio system.
The downlink for this operating mode remains the same, so listen for the station on 145.800 MHz. The new uplink frequency is 437.800 MHz. All frequencies are subject to Doppler shifting.
For further information on working satellites and adjusting for Doppler shift, please review Emily Clark's (W0EEC) excellent presentation on AMSAT's website: http://www.amsat.org/amsat-new/information/faqs/Intro_sats.pdf.
Satellite Tracking Software
There are numerous satellite tracking programs out there and they are all very nice programs. But there are those that stand out as some of the best. Below are some of the programs that I believe are well worth your time to look into. Take a look at them and see if they are right for you.
Orbitron
- Orbitron is a satellite tracking system for radio amateur and observing purposes. It's also used by weather professionals, satellite communication users, astronomers, UFO hobbyist and even astrologers. Orbitron shows the positions of satellites at any given moment (in real or simulated time). Orbitron is available for Windows, but can be operated on Linux via Wine.
Sebastian Stoff has done a great job on taking satellite tracking to the next level. Even though satellite tracking hsn't really changed much through the years, Sebastian has given it a new look. I have been very proud to help Sebastian with a very small part on his project, by providing the satellite information.
After taking some time off, Sebastian has returned and is looking at improving his very popular software. He is even looking at a new web based project as well. For more information, please visit his site or his new forum by clicking here .
You can pick up the latest satellite notes package, by clicking here. You can also download the files for retrieving TLE's from TLE.INFO, by clicking here.
Gpredict - Gpredict is a real-time satellite tracking and orbit prediction application. It can track an unlimited number of satellites and display their position and other data in lists, tables, maps, and polar plots (radar view). Gpredict can also predict the time of future passes for a satellite, and provide you with detailed information about each pass.
Gpredict is different from other satellite tracking programs in that it allows you to group the satellites into visualisation modules. Each of these modules can be configured independently from the others giving you unlimited flexibility concerning the look and feel of the modules. Naturally, Gpredict will also allow you to track satellites relatively to different observer locations - at the same time.
Gpredict is available for Linux and Windows operating systems.
David Ransom Software - STSORBIT PLUS, usually known as STSPLUS, is intended for use during Space Shuttle missions and for general satellite tracking using NASA/NORAD 2-Line Orbital Elements. One primary satellite and up to 32 additional "static" or "real time" satellites may be simultaneously tracked in real time on most computers.
David Ransom's site was reported non-operational as of December 1, 2006 - David passed away on November 5th, 2006. As a tribute to Dave and his hard work for NASA, USAF, Amateur Radio operators and every satellite tracker, David Cottle and myself have made the full STSPlus package available to all.
You can get the entire package here.
Two-Line Element Files - TLE
The following information provided by numerous sources that is updated on a almost daily basis. This section has been a combined effort by myself and Dave Cottle, with links and other information provided by John David Corby and Dr. Kelso. Thanks to all.
For TLE's directly from the USSPACCOM, click the Strategic Command sheild below.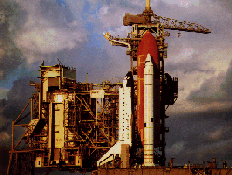 Aus-City
- Operated by
David Cottle
. For the past 5 years Aus-City has provided a forum, that not only provides the latest space related information, but also provides a place for you to ask questions and participate in the ongoing, near-real time discussions. Aus-City has provides satellite two line elements (TLE's) via the
TLE.INFO
web site. The TLE's are update every 6 hours.
CelesTrak - Operated by Dr. T.S. Kelso since 1985, CelesTrak has established a credible reputation worldwide for providing educational materials and standard data to the space community such as two-line element sets, earth orientation parameters, solar weather data, geomagnetic indices, precision orbit ephemerides, and associated models and documentation.
TLE's via E-mail
If you wish to receive the Space Shuttle Orbital Data via EMAIL please follow these instructions:
Go to
http://www.aus-city.com/cgi-bin/dada/mail.cgi?flavor=subscribe&list=STSTLE_LIST
Input your email address
You will be sent an acknowledgement email with a specific URL that you must go to in order to complete the subscription to the STSTLElist Distribution List.
If you wish to receive International Space Station (ISS) / Hubble Space Telescope (HST) / Chandra X-Ray Observatory Orbital Data via EMAIL please follow these instructions:
Go to
http://www.aus-city.com/cgi-bin/dada/mail.cgi?flavor=subscribe&list=TLELIST
Input your email address
You will be sent an acknowledgement email with a specific URL that you must go to in order to complete the subscription to the TLElist Distribution List.
If you wish to receive Amateur / Interest / Weather / Orbcomm / GPS Orbital Data via EMAIL please follow these instructions:
Go to
http://www.aus-city.com/cgi-bin/dada/mail.cgi?flavor=subscribe&list=TLEMORELIST
Input your email address
You will be sent an acknowledgement email with a specific URL that you must go to in order to complete the subscription to the TLEMORElist Distribution List.
Additional listservers are:
The Shuttle Launch Countdown Clock Program List uses David Ransom's JPLCLOCK is available in the FILES area.
The Latest Space Shuttle Information and Files including the latest TLE's + Real State Vectors, data, information and software (including latest versions of STSPLUS, JPLCLOCK>, ASTROCLOCK, ORBITEL, GPSSYNC, and VEC2TLE) are here also.
** As of April 21, 2006 - Aus-City joined a small elite group that has received permission from Space Command / DoD to re-distribute TLEs.
Not only is Aus-City.com authorised to redistribute (via the tle.info site gateway), but idb.com.au also has received permission to re-distribute, and also has authority to re-distribute by email as well!
David H. Ransom Jr. Dedication

This section is new and is in progress.  Please visit again shortly.
Site Awards
"In May of 2001, ScannerDesk/SpaceLodge had been selected by "The Ol' Pad Rat" for the coveted and selective "Pad Rat Award for Launch-Quality Space Pages" . "Pad Rat" has been used as a colloquial term for those Cape Canaveral/KSC Launch Processing folks who exemplify exceptional devotion to Safety, Reliability and Quality in Launch Facility and Processing matters, Spacecraft Hardware, and to the Flight and Ground Support Personnel who work with and/or fly in The Manned Space Programs. A "Pad Rat" (The omnipresent "Ghost" of a 1960's version appears in the Award), spent so much time, usually above and beyond the required, at the Pad or other Processing facilities, that they were barely discernible from the other resident denizens. Some say they still "haunt" the premises.
ScannerDesk/SpaceLodge's Space page exhibits a quality of positive Space Program promotion and an accuracy of presentation that "The Ol' Pad Rat" feels is deserving of this "Pad Rat" award.."